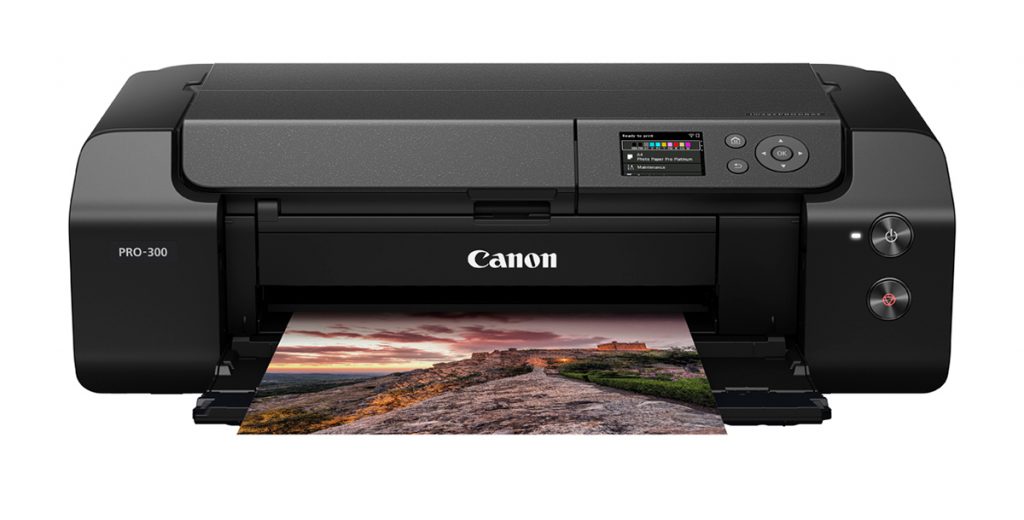 It's been a hot minute since the 13″ (A3+ or Super B) printer market has seen much action, but Canon was playing some cards close to their chest: alongside the introduction of the Canon EOS R5, they also announced the new Canon imagePROGRAF PRO-300.
Like its larger siblings, it uses Canon's excellent LUCIA PRO ink and L-COA PRO image processing technology with FINE print head system. Like Epson's competitive SureColor P700, it uses a 10-channel ink system and boasts a street price of around $800. (This does unfortunately mark the end of 13-inch printers with an expanded ink set. With today's screening algorithms and inks you'll still get a great gamut, but some more demanding users may miss the option of dedicated red and green channels.)
Per Canon USA, new features of the PRO-300 include:
15% smaller than its predecessor
New matte black ink offering greater black density, smooth gradations and details in darker areas
Updates to the Professional Print & Layout software to help create seamless photo printing from image-editing software including Digital Photo Professional and Adobe® Photoshop®, Adobe Lightroom, or as stand-alone software
Improved media compatibility with the additional capability to support panorama-sized paper, and multiple feeding methods for media of varying thicknesses
High-speed printing at up to approximately 4 minutes and 15 seconds for a bordered 13" x 19" inch print when using Photo Paper Pro Premium paper
Color LCD for easier at-a-glance ink status checks
Borrowing from its much larger siblings, the PRO-300 brings Canon's advanced print quality management to the 13″ class. This includes skew correction and Canon's advanced nozzle recovery system: nozzles are carefully checked by sensors during printing, and if a clog is detected in one nozzle, others will automatically compensate for it. Most impressively, this nearly always works without loss of print quality. These are features that have long worked incredibly well on the wide-format iPF line, but to date hadn't meaningfully trickled down to the smaller, cheaper members of the line. To have them in a 13″ printer is absolutely unbelievable, and if it's been a few years since you upgraded… keep this little Canon in the back of your mind.